A celebration of all things pot pie! The Monkton Friends Methodist Church invite you to their annual winter community supper. Saturday, February 7th at 5:30. This event is free and open to the public.
This year's theme is Pot Pies! A meal of pot pies and salad will be serv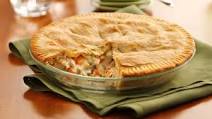 ed. There will be a macaroni and cheese option for children. If you'd like to bring a dessert, please do. This is a great way to meet your neighbors and catch up and is always a great cabin fever reliever!
If you'd like to bring your own cup and plate, please do. For those that wish not to or can't there are disposable plates.
*Donations are welcomed