The runners are coming! Be part of the 5K "Fun Run" on Sunday June 23rd at 8 AM. $20 for Adults, $10 for Seniors (over 55), $10 for Young Adults 11 and up and Free for Kids 10 and under. All proceeds benefit the Monkton Recreation Committee. For a printable registration form, click on the following link:
For additional info contact Karla Huizenga at karla.huizenga@lmsre.com or at 377-7445.
The Vermont Department of Buildings & General Services announced they have awarded a $7,500 grant to the Town of Monkton Recreation Committee.  The grant request was written to help fund the construction of a pavilion to be located on the Morse Park recreation property.  Recreation Committee members Charlie Huizenga, Karla Huizenga & Bob Whalen attended the awards ceremony in Montpelier.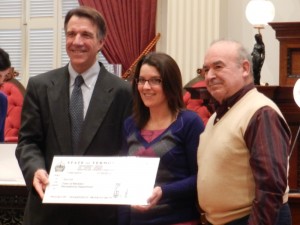 Lt. Governor Phil Scott awarding the $7,500 check to Karla & Charlie Huizenga.