Recreation Committee Members:
Stephanie Murray
Ed Cook
Charles Huizenga Sr.
Paul Low
__________________

The annual Corn Roast will be held on August 23rd at the Recreation Field on Hollow Road at 7 PM. Music will be provided by the Bristol Band. Volunteers are needed! Please call Pete Aube @ 453-2700 if you can help out!
The Vermont Department of Buildings & General Services announced they have awarded a $7,500 grant to the Town of Monkton Recreation Committee.  The grant request was written to help fund the construction of a pavilion to be located on the Morse Park recreation property.  Recreation Committee members Charlie Huizenga, Karla Huizenga & Bob Whalen attended the awards ceremony in Montpelier.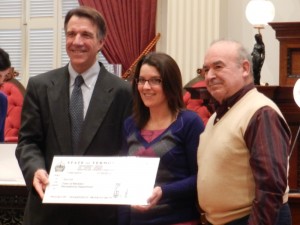 Lt. Governor Phil Scott awarding the $7,500 check to Karla & Charlie Huizenga.