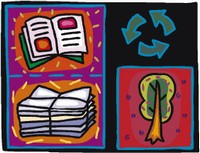 Recycling Hours are from 9:00 am to 12:00 pm on the 2nd and 4th Saturday of the month.
The Recycling Center is located on States Prison Hollow Road.  Traveling east on States Prison Hollow Road from the Monkton General Store take second drive on right past Dupont Auto and Body Shop.
The Recycling Center is a volunteer-run town service. The Monkton Maples 4H Club have been responsible for the center since 2003. Currently the volunteers at the center are transitioning to community members who are interested in connecting with their neighbors while providing an important service and helping our environment.
Here are a few things you can do to help the volunteers:
Please do NOT drop off recycling materials when the Recycling Center is CLOSED.
Please remember we are OPEN every 2nd and 4th SATURDAY from 9 – 12.
Please FLATTEN corrugated cardboard boxes before placing in Dumpster.
The following is a list of recyclable materials to be put in blue bins:
tin and aluminum cans
foil and pie plates (must be clean)
glass bottles and jars (rinsed and dry)
plastic containers including lids (#1-#7)
white and colored paper, open mail and envelopes
paper bags
newspapers (dry)
magazines, catalogs, phone books
shredded paper in clear plastic bags
box board (cereal boxes, etc.)
egg cartons (cardboard only)
(Note: STYROFOAM and PLASTIC BAGS are NOT recyclable at this time.) To recycle plastic grocery bags please take them to a participating grocery store.
The following is a list of recyclable materials to be put in dumpster:
 corrugated cardboard – PLEASE FLATTEN BOXES!
Any questions as to why certain items are or are not accepted should be directed to Casella Waste Management, 388-2915, or can be brought up at a Town Select Board meeting.
Please do your part to recycle correctly. Take the time to learn what can and can't go in the blue bins. Thank you for continuing to make recycling a success in Monkton!
Respectfully submitted,
Jessica Demeritt, Monkton Recycling Center Coordinator