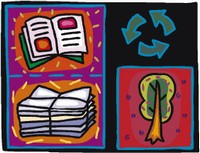 Recycling Hours are from 9:00 am to Noon and the 2nd and 4th Saturday of the month.
The Recycling Center is located on States Prison Hollow Road.  Traveling east on States Prison Hollow Road from the Monkton General Store take second drive on right past Dupont Auto and Body Shop.
The Monkton Maples 4H Club has been running the Monkton Recycling Center since 2003.
The current Monkton Maples 4H Club are Kirsten Malzac (President), Molly Parren (Vice President), Corey Kimball (Treasurer), Catherine Pierattini (Secretary), Gillian Comito, Amy Doucette, Lauren Walch, Sam Low, Spencer Fitzgerald, Anna Pierattini, Michael Pierattini, Hannah Rickner, Courtney Webster, Erica Smith, Samantha Shandrow, Kirsten Kuhns, and Justin Kimball.
Our duties include: opening the recycling bins, arriving early in the winter months to shovel and sand walkways, assisting townspeople recycle, and contacting Casella to empty full bins. We have done our best to ensure that things run smoothly. Here are a few things you can do to help us:
Please do NOT drop off recycling materials when the Recycling Center is CLOSED.
Please remember we are OPEN every 2nd and 4th SATURDAY from 9 – 12.
Please FLATTEN corrugated cardboard boxes before placing in Dumpster.
The following is a list of recyclable materials to be put in blue bins:
 Metal, tin and aluminum cans
foil and pie plates (must be clean)
glass bottles and jars (rinsed and dry)
plastic bottles
mixed paper
white and colored paper
paper bags
newspapers (dry)
magazines and catalogs
open mail and envelopes
phone books
shredded paper in clear plastic bags
box board (cereal boxes, etc.)
egg cartons (cardboard only)
(Note: PIZZA BOXES and PLASTIC BAGS and NOT recyclable.)
The following is a list of recyclable materials to be put in dumpster:
 corrugated cardboard – PLEASE FLATTEN BOXES!
Any questions as to why certain items are or are not accepted should be directed to Casella Waste Management, 388-2915, or can be brought up at a Town Selectman meeting.
Please remember that we are only volunteers! Our town's recycling works because everyone follows the rules. Thank you for continuing to make recycling a success in Monkton!
-Kirsten Malzac
Monkton Maples 4H Club President