The Monkton Museum and Historical Society first incorporated in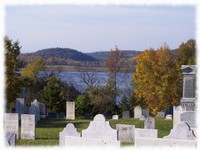 1976, the year of the nation's bicentennial. After several years of inactivity, reorganization occurred in 2004. The Monkton Museum and Historical Society (MM&HS) is a non-profit, tax-exempt organization incorporated under the laws of the State of Vermont.
The MM&HS has three main purposes. The first is to collect and preserve historical artifacts pertaining to the town of Monkton. Secondly to serve as a resource of reliable information for those interested in the history of the town of Monkton. Lastly to organize educational opportunities for the community at large and area students of all ages.
The MM&HS is currently working to create an inventory and data base of the Society's historical artifacts. Another project, which was begun in 2005, is to transcribe the information from all the gravestones in Monkton. The transcription and photographing of the gravestones is nearly complete and the next step is to create an electronic data base of the information. Publication in paper and electronic forms will follow once the data base is complete.
Long-range goals of the MM&HS include locating a site for the storage and display of the Society's growing collection, restoration of a circa 1800's one-room schoolhouse, and the identification and documentation of Monkton's historic buildings.
The Society has also formed a partnership with the East Monkton Church to lend support to the church's maintenance and preservation. As part of this effort, the Society sponsored the creation and sale of an ornament featuring an image of the church. Mrs. Sylvia Bergen has granted the Historical Society permission to use her husband's artwork for fundraising purposes to benefit preservation and maintenance of the East Monkton Church. The ornament is the first item sponsored by the Historical Society that will use artist Charles Bergen's artwork of the church. The 3-inch wooden ornament is being produced by Maple Landmark of Middlebury, Vermont. The price of the ornament is $10.00, plus $2.00 for shipping and handling, with all proceeds to benefit church preservation and maintenance. The Society will also accept tax-deductible contributions specifically for the church.
A town history published in 1961 is available for $5.00 at the Town Hall. An 1880's history from the 1881-1882 Hamilton Child's Addison County Directory and the Child Directory Monkton Name Listing are now available on this web site. Click on the link below to open this document in .pdf format.
The MM&HS meets the third Monday of each month at 7:00 p.m. at the Monkton Town Hall. In the event of a storm on the Monday meeting day, the meeting is held Tuesday evening. Dues are only $10.00 per person per year. Please consider joining us!
All correspondence should be sent to the:
Monkton Museum and Historical Society
280 Monkton Ridge
North Ferrisburgh, VT 05473
Vermont Civil War Project
Monkton Civil War Soldiers
Monkton Population Figures
Monkton History 1881-1882
Monkton Name Listing 1881-1882